Cashew Nut Roast with Sage and Onion stuffing
A totally gorgeous vegan nut roast this one, and one of the first on the internet back in 1998! Great for Christmas or just Sunday dinner.
Ingredients
A sixth of a cup/30g/1oz of vegan margarine
2 sticks of celery, finely chopped
a medium leek, finely chopped
1 and a half cups of hot water
a teaspoon of yeast extract or our favourite Vecon Stock
3 cups/550g/16oz of ground cashew nuts (or other nuts of your choice – almonds work well too)
2 Tablespoons of soya flour
2 teaspoons of fresh herbs – winter savoury is great (if using dried 1 teaspoon)
3 cups/160g/6oz of white bread crumbs. Orgran Rice Crumbs are an excellent substitute for a gluten free version, easier too, we use them all the time.
seasalt and pepper to taste
sage and onion stuffing (see recipe here or use a packet one)
Method
Melt the margarine in a large pan for mixing and cook the celery and leek in it for a few minutes. Mix the yeast extract into the hot water (alternatively you could use any stock you like) and add this to the leek and celery. Stir in the soya flour, nuts, herbs, breadcrumbs and salt and pepper and mix well. Allow to cool slightly while you grease a loaf tin.
Place half the nut roast mixture in the tin and press down well, then add the sage and onion stuffing (pressing down well again) and place the rest of the nut roast mixture on top. Bake in the oven for about 40 minutes at 180/360 then turn out of the tin and slice. Nice served with all the traditional trimmings for a perfect vegan Christmas.
---
Playmobil do a lovely range of non-edible Advent Calendars, with great scenes to build from traditional Nativity to dragons, unicorns, pirates and Santa's workshop.
---
Variations: you can substitute wine (red or white) or soya milk for the water and yeast extract. The sage and onion stuffing is optional – it works just as well without it and might actually slice up easier! A layer of sliced mushrooms and garlic is an alternative to the stuffing.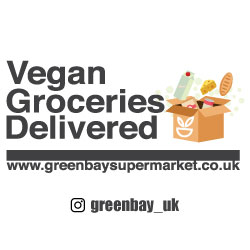 Pictured vegan nut roast is made with red onion and lots of fresh rosemary. Speaking of rosemary, an absolutely perfect accompaniment for any nut roast either hot or sliced up cold in sandwiches, is the rosemary and redcurrant jelly detailed here on the blog. If reading this in winter, sorry, it's a bit late to go out and get redcurrants, but it's a great one to make for next year. A jar of that would be a very nice vegan Christmas gift too.
See all our vegan Christmas recipes here
Also see: