Online purchase of vegan chocolate:
UK:
There are so many great vegan chocolates and treats available now, from Vegan Wagon Wheels to Marshmallows and the amazing whole hazelnut Vego bar. We remember when vegan white chocolate appeared for the first time – now there's many brands and types.
The companies below sell a good selection of goodies:
Chocolate Recipes:
Easy Peasy Mousse

Ingredients (quantities are approximate – there is room for variations):
1 block of silken tofu (around 400g)
2 heaped tablespoons of icing sugar
1 teaspoon vanilla extract
for chocolate version: 1 bar (about 100g or so) of good quality vegan chocolate, melted
for strawberry type: 1 punnet of strawberries – reserve some for garnish
For the strawberry one you just whizz it all up in a blender until smooth, pour into bowls and chill in the fridge – garnish if you like. For the chocolate whizz the tofu, sugar and vanilla up and then beat in the melted chocolate. This is quite thick and soft prior to chilling and really firms up a lot after so go with what you like 🙂
The chocolate mousse also works very well as a topping for a no-cook tofu cheesecake.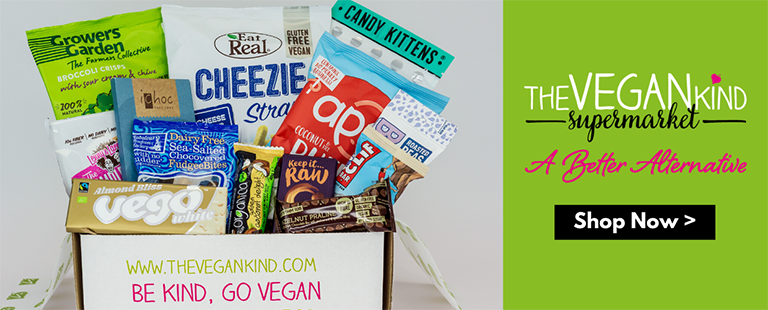 Black and White Muffins
Ingredients:
300g/10 oz/1and a half cups of self raising flour
50 g./2oz/quarter cup cocoa powder
1 teaspoon baking soda
100g./5oz/half cup sugar
about a cupful of vegan white chocolate chips or buttons
1/2 cup vegetable oil
1 and a half cups of cold water or soya milk
1 teaspoon vanilla essence
Preheat oven to 190C/380F. Mix dry ingredients together in a bowl. Add the wet ingredients and mix well – you can add more water or soya milk if the mixture seems too thick. Place muffin cases in a muffin tin (makes about 12) and fill with the mixture. Bake for 15-20 minutes until risen and firm.

Fantastic (very rich) Chocolate Cake
Ingredients:
1 and a half cups unbleached white flour
1/3 cup unsweetened cocoa powder
1 teaspoon baking soda
1 cup sugar
half a cup of mixed, chopped nuts (optional)
1/2 cup vegetable oil
half a cup cold water or soy milk
half a cup of orange juice
2 teaspoons vanilla extract
2 tablespoons vinegar
Preheat oven to 375 degrees. Sift dry ingredients into 8″ square or 9″ round baking pan. Mix liquids (except vinegar) and whisk into dry. When batter is smooth, add vinegar and stir quickly, until it is evenly distributed. Put it in the oven, don't let it stand around (that has something to do with the vinegar) Bake for 25-30 minutes…or longer until done. This cake is great served with Provamel's soya dream (cream like). Pictured on right with a chocolate "butter" icing (blob of marg, bit of icing sugar, spoon of cocoa, all creamed together) and sprinkled with flaky vegan hot chocolate or whizzers chocolate beans.
A steamed pud with sauce variation sent to us by Bracken: put broken up chocolate bar pieces in the bottom of a microwavable basin and put the chocolate cake mixture on top. Microwave for 2-4 minutes depending on oven.
Chocolate Fudge Icing (or soft chocolate fudge)
Ingredients:
a 100g bar of chocolate of your choice
1 tablespoon of vegan margarine
a tablespoon of icing sugar
1 teaspoon of golden syrup
optional additions for fudge: mixed chopped nuts, raisins, vanilla, mint or almond essence
Melt everything together slowly in a small saucepan. For icing: leave to cool, stirring occasionally. Once it reaches a good spreading consistency, ice the cake and leave to set completely. For Fudge: Add your nuts etc. if using and pour melted mixture into a dish that leaves it at least 1cm. thick. Set in fridge and then cut into squares.
Chocolate Brazil Nut Squares with truffle topping
Ingredients:
200g/7oz. dark chocolate
250g/8oz. packet of biscuits/cookies (digestive or oat ones work well) – broken down to crumb texture
100g/4oz. brazils nuts crushed or broken down in a processor
2 tablespoons of vegan margarine
2 tablespoons of golden syrup
half a box of vegan cream (about 100ml.)
Melt the chocolate in a bowl over hot water. In a pan, slowly melt together the margarine and syrup and then combine this with HALF the chocolate. Stir in the crushed biscuits and nuts and press this into a greased 9″ by 9″ tin or something of similar size. Beat the soya cream into the remaining 100g or so of chocolate and spread this on top. Chill in the fridge for a couple of hours until set and cut into squares.

Choc, Fruit and Nut Cookies
This recipe makes about 40 small (2 inch/6cm) cookies
Ingredients:
150g/5oz/three quarter cup caster sugar
150g/5 oz/three quarter cup vegan margarine
5 tablespoons of soya milk
300g/10 oz/1and a half cups of plain flour
teaspoon vanilla extract (or according to pack instructions)
a handful each of: chocolate chips, chopped nuts and raisins.
Preheat oven to 200C/400F and grease cookie sheets. Cream together the sugar and marg. Mix in the soya milk and vanilla and then the flour. The mixing of the flour is best done with your hands (messy but fun!). Add the choc, nuts and raisins and mix well. You should have a workable dough (add more flour if it's too wet or more soya milk if too dry and doesn't hold together well). Roll out on a floured board (to just under 1 cm thick) and cut into cookies. Lay on cookie sheets and bake for about 10 minutes for soft bake cookies or a little longer for dryer, crunchy ones.
Variations: Leave out the choc, nuts and fruit and half dip the cooled cookies in chocolate – choccy biscuits! Crushed Whizzers chocolate beans are a colourful replacement for chocolate chips. They can also be pressed all over the top prior to baking. Plain cookies with a handful of sesame seeds or desiccated coconut added into the dough are delicious. Plain cookies with a square of chocolate pressed onto them before baking work well too.
6 cups of cornflakes or rice crispies
1 cup of golden syrup
1 1/2 cups of peanut butter
8oz of choc chips (or as much chocolate as you want)
Lightly oil a baking tray. Place the cornflakes in a big bowl ready. Then heat the golden syrup in a saucepan until thin and runny. Remove from the heat and beat in the peanut butter until smooth. Pour the mixture over the cornflakes and mix well.
Push the mixture into the baking tray to form a slab (I find pushing it down with a potato masher works). It should be firmly packed. Then melt your chocolate chips and pour over the top. Refridgerate for at least 3 hours then cut into bars or bite size chunks.
MMMmmmm.
Cat's Amazing Chocolate Recipies!
Ok so here is an instalment of all things vegan and chocolatey to inspire those who thought they would never again be able to sample the delights of chocolate heaven. I'm not claiming any of this is healthy so don't blame me for over-consumption!
NB. Chocolate refers to plain (ie.- no other added flavours) vegan chocolate of your choice.
CAT'S LUCIOUS TRUFFLES
100 – 200g chocolate
1 pkg silken tofu ( blended to a cream)
1/2 cup maple syrup
1 cup almonds/ hazelnuts ( whole or pieces)
Put the maple syrup in a pan and bring to a boil. When boiling add the nuts and stir constantly until it is almost dry ( ie the nuts are all sticking together and the syrup is not runny) empty out onto some greaseproof paper and allow to cool.
Meanwhile melt the chocolate in a bowl over simmering water. DON'T allow the bowl to touch the water. It should be just above it.
Blend the praline (nut mixture) into either a fine powder or a coarse mixture and stir into the chocolate. Fold in the tofu. When it is all mixed take off the heat allow to cool. The cover and place in the fridge until well chilled.
Work quickly and form into small balls. Roll in cocoa powder or grated chocolate or dip in melted chocolate and allow to set. Eat in moderation, as they are incredibly rich!
OTHER VERSIONS
If you don't like nuts or have an allergy they can be left out but add a tablespoon or two of sugar or maple syrup to the tofu while blending it (taste as it may need more or less depending on the brand of chocolate you use.
Either basic truffle mixture can be flavoured with a tbsp of liqueur, or flavoured syrups. Extra nuts, dried fruit, fresh fruits diced up or rice crispies (for crunch!) can all be added to the basic mixture. Experiment…
The basic mixture makes AMAZING chocolate spread or how about cutting out rectangles of vegan puff pastry and spreading a layer of the truffle mixture onto it, fold it over (chocolate side in!) and bake in the oven (follow temperature and times on the packet of pastry) and you have vegan pain au chocolat !!
Catriona's wonderful truffle recipe is now included in 'Venturesome Vegetarian Cooking: Bold Flavors for Meat- And Dairy-Free Meals' by J.M.Hirsch and Michelle Hirsch!
PLAIN FUDGE
850g/1 3/4 lb sugar
300mls/ 1/2 pint soya milk
120g/ 4oz soya margarine (this is better for a more 'buttery' flavour)
2 tsp vanilla extract
Oil a square tin ( about 18cm/7 inch). Pour the soya milk into a pan and slowly bring to the boil. Add the sugar and the soya margarine and heat slowly, stirring constantly until the sugar is dissolved and the margarine has melted. Bring to the boil and cover the pan. Boil for 2 minutes, then uncover and continue to boil stirring occasionally until it reaches soft ball stage (it is sort of essential that you use a sugar thermometer for this…it should read 115-116C/238 to 240F). Take off the heat and stir in the vanilla extract and leave to cool for 5 minutes. Beat until it begins to lose its gloss and is thick. Pour into the tin and allow to cool before cutting into squares. ( of course vegan fudge can be bought from both VIVA! And Dr Hadwens Trust)
ARES BARS -Vegan Mars Bars
From Uncle Stevies recipe column – http//:www.veggies.org.uk
NOUGAT
2 Cups of Soya Milk
9 oz. Soya Marg.
24 oz. Sugar
2 tblsp. Vanilla Essence
12 oz. dried Soya Milk
Put the milk, marge and sugar into a thick saucepan and heat, without stirring, on a low heat until it bubbles all over and triples in size.
Keep at this heat for 2 min (if you have a sugar thermometer, it should be 235 F./112.8 C.)
Cool.
Add the vanilla essence and the dried soya milk and beat till creamy.
Pour into baking trays roughly the size of 48 mars bars and freeze for an hour.
TOFFEE
12 oz. Sugar 12 oz. Soya Marge 250 ml Soya cream 3 tbsp Golden Syrup
Put everything in a thick bottomed saucepan and heat on a low heat till it bubbles all over and triples in size
Keep at this temperature for 4-5 minutes, stirring constantly.
Pour the toffee over the nougat and freeze for another hour.
Cut into mars bar size pieces and re-freeze until the toffee is solid (this can take a couple of days.)
Melt 1200g of vegan chocolate in a microwave if you have one (3 minutes full power per 100g) or place into a bowl above a saucepan of boiling water till melted.
Coat the bars with chocolate and place onto a greased tray. Re-freeze.
The Marathon Variation (Thermopylae Bars)
Replace vanilla essence with 340g jar of crunchy peanut butter (without the jar) & 20g chopped, un-salted peanuts.
These basic nougat and toffee recipes can be used to make a whole range of vegan versions of chocolate bars.
CRUNCHIES
2lb sugar (brown or white)
1 cup cold water
2 tsps bicarbonate of soda
Boil the sugar and water in a DEEP pan for 20 minutes. Test in cold water until the sugar mixture is crisp and cracks easily. Remove from heat and add the bicarbonate of soda. This will make the mixture puff out and froth up in the pan. Pour into an oiled tin and cut when half cold. When cooled dip in melted chocolate.
CHOCOLATE BUBBLE BATH – do not eat!!
200 ml./1 cup of unscented bubble bath (as sold by Meadowsweet, Dolma and Honesty)
75 ml./third of a cup of unsweetened soya milk
70g./3 oz. of dark chocolate
optional – add some cinnamon or ginger for a stimulating bath
Heat the soya milk and add in the chopped chocolate, stir well until melted. Do not boil. Allow cooling down. Mix with the bubble bath and pour into your bath and enjoy…